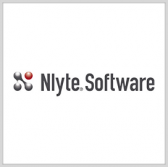 Nlyte Software has received a Federal Risk and Authorization Management Program certification for its cognitive data center infrastructure management platform.
Nlyte Machine Learning leverages the artificial intelligence capabilities of the IBM Watson IoT platform to help agencies meet the federal government"™s security requirements and comply with the Data Center Optimization Initiative, Nlyte said Thursday.
"With this FedRAMP certification, U.S. federal agencies can now take advantage of Nlyte Machine Learning in a secure cloud environment," said Enzo Greco, chief strategy officer of Nlyte.
"This will allow these organizations to quickly benefit from advanced analytics specifically designed to reduce costs and increase uptime within their data centers," Greco added.
Watson enables the gathering of real time data from the data center, providing environmental insight on equipment through such means as as continuous temperature monitoring, Anthony Vicinelly, Nlyte's federal technology director, told ExecutiveBiz. This allows the Nlyte Machine Learning platform to "determine where hotspots are going to occur or potential failures can occur."
Vicinelly elaborated, "You would be able to say an hour in advance [that] the temperature's going to raise in this part of the data center by five to 10 degrees based off of all the information. And so then, you can really start to take action. You can start to direct cooling to that area or a bring up more virtual machines in different parts of the data center to support the job that is generating the excess heat or the increased CPU utilization."
More than 35 defense, intelligence and civilian agencies have started fielding the Nlyte Machine Learning platform.