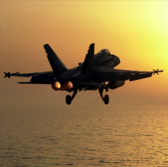 Rockwell Collins has received a four-year contract to continue providing logistics support for the avionics display systems of the U.S. Navy's F/A-18 aircraft fleet.
The agreement will extend performance-based logistics work the company has performed over the past 15 years on more than 1.2K F/A-18 units, Rockwell Collins said Tuesday.
Services under the PBL effort helped increase availability rate for the Navy aircraft to more than 99 percent, addressed backorders on components and accelerated turnaround time for most replacement hardware to less than two days.
The company performs 60 percent of work through partnerships with two Navy depots and also supports program management, engineering support and obsolescence and configuration management efforts.