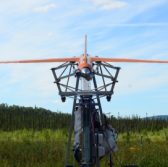 Boeing's Insitu subsidiary and the University of Alaska Fairbanks have received permission from the Federal Aviation Administration to conduct unmanned beyond-visual-line-of-sight and nighttime test flights.
The effort will help authorize autonomous drone flights in the National Airspace System, at or below an altitude of 400 feet, Insitu said Wednesday.
Esina Alic, president and CEO of Insitu, said FAA's approval will allow the company, the UAF Alaska Center for Unmanned Aircraft Systems Integration and partners from the UAS Integration Pilot Program to initially present BVLOS capabilities and constant linear infrastructure monitoring using the Trans-Alaska Pipeline System.
She added that the test flights will showcase the capabilities of Insitu's offerings, as well as support FAA in managing UAS flights in the NAS.
Insitu, ACUASI and other IPP participants will perform the test flights at Poker Flat Research Range in Alaska.