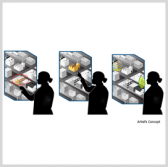 The Defense Advanced Research Projects Agency has announced the eight awardees for the second sprint of the OFFensive Swarm-Enabled Tactics program and started to solicit proposals for the third sprint.
OFFSET seeks to use swarms of up to 250 unmanned systems designed to provide ground military units with insights as they face mobility and communications challenges in urban environments due to limited sight lines, tight spaces and vertical structures, DARPA said Friday.
"What makes autonomous swarm research challenging and compelling is the rapid pace at which swarm technologies and associated capabilities are advancing," says Timothy Chung, program manager at DARPA's tactical technology office.
"OFFSET is designed around the idea of incorporating core swarm sprints at regular intervals," Chung added.
The second swarm sprinters that will develop new technology capabilities in swarm autonomy are:
Carnegie Mellon University
Corenova Technologies
Cornell University
Heron Systems
Michigan Technological University
Siemens' corporate technology business
University of Colorado, Boulder
University of North Carolina, Charlotte
The OFFSET program's third sprint will focus on human-swarm teaming and swarm tactics areas.
The human-swarm teaming area calls for participants to design, build and demonstrate novel structures designed to build up human interaction with swarms of unmanned systems.
The swarm tactics aspect involves the development of additional approaches that use a heterogeneous swarm of ground and air robots meant to carry out an "urban raid" mission within one to two hours.
DARPA will accept proposals for the third sprint through Nov. 13.