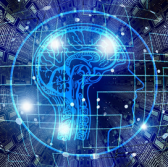 The Defense Advanced Research Projects Agency will host a Proposers Day on Oct. 18 in Arlington, Va., to provide information on a program that seeks to introduce human common sense reasoning and knowledge into artificial intelligence-based machines.
"The absence of common sense prevents an intelligent system from understanding its world, communicating naturally with people, behaving reasonably in unforeseen situations, and learning from new experiences," Dave Gunning, a program manager in DARPA"™s information innovation office, said in a statement published Thursday.
"This absence is perhaps the most significant barrier between the narrowly focused AI applications we have today and the more general AI applications we would like to create in the future."
The Machine Common Sense program aims to build and assess common sense services through two approaches.
The first approach will focus on the development of computational models that mimic the core cognitive domains: objects or intuitive physics; agents or intentional actors; and places or spatial navigation.
The second approach will build a repository of common sense knowledge designed to answer image-based and natural language queries related to common sense phenomena.
Interested stakeholders have until Oct. 15 to register for the event, according to a FedBizOpps notice.