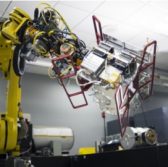 Raytheon has shipped the first small satellite for the Space Enabled Effects for Military Engagements program to the Defense Advanced Research Projects Agency for integration onto a Spaceflight Industries payload.
The defense contractor said Wednesday it designed the SeeMe satellite to provide real-time tactical imagery to American soldiers deployed in remote and beyond-line-of-sight environments to boost their situational awareness.
The spacecraft will be included in the SeeMe constellation, which will comprise various small satellites that are programmed to de-orbit and burn up in Earth's atmosphere after providing services for up to five years.
Thomas Bussing, vice president of Raytheon Advanced Missile Systems, said ground troops seldom have access to larger, military and commercial satellites.
He added that the SeeMe satellite constellation will deliver real-time images from space for critical warfighting missions.
DARPA plans to launch the SeeMe spacecraft into low-Earth orbit on a SpaceX rocket in late 2018.