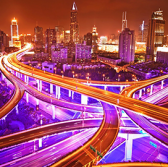 Cubic's transportation systems business has partnered with City Innovate to present 80 challenges in a program that encourages public-private teaming to resolve various issues in local governments.
Cubic said Tuesday 28 civic agencies will collaborate with startups to develop and assess products and services for the Startup in Residence program, which will run for two months.
The initiative will focus on challenges such as traffic congestion, high-occupancy vehicle lane enforcement, disaster management and security loans.
Boris Karsch, vice president of strategy for Cubic Transportation Systems, said working with City Innovate and participating in the STIR program is one way for the public transport company to support cities in procuring new technologies that can help modernize daily operations.
He added that the agreement will allow CTS to help its customers in taking advantage of smart mobility services from American startups to resolve civic issues.
The San Francisco Mayor's Office of Civic Innovation launched the STIR program in 2014 to help local governments tackle concerns in public health and safety and urban planning, among other things, in partnership with small businesses.
CTS is a company member company of City Innovate's technical advisory board, along with Panasonic, ForgeRock, Google Cloud for Startups, Mexichem, Microsoft, Oracle and Visa.