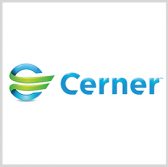 Cerner has formed an organization of private firms that will help perform a potential 10-year, $10B contract to modernize the Department of Veterans Affairs' electronic health care record.
The EHR modernization team will resume the health information technology company's work in meeting the medical needs of veterans, Cerner said Wednesday.
VA Secretary Robert Wilkie said the team will help military care facilities, VA clinics and civilian health care providers to exchange data with one another through a single longitudinal health record.
The members of the Cerner-led team are:
AbleVets
Accenture
ACI Federal
B3 Group
Blue Sky Innovative
Clarus Group
Forward Thinking Innovations
GuideHouse
HCTec
Henry Schein
Holland Square Group
HRG Technologies
KRM Associates
Leidos
Liberty IT Solutions
MedicaSoft
MedSys Group
MicroHealth
PM Solutions
Point Solutions Group
ProSource360
Sharpe Medical Consulting
Signature Performance
Thomas Riley Strategies
The EHR modernization group will present their strategy for the program during the Cerner Health Conference from Oct. 8 to 11 in Kansas, Miss.