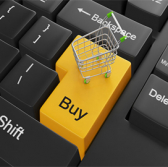 The U.S. Air Force and Amazon have partnered on a pilot program that allows contracting officers to make small procurements on the company"™s e-commerce portal through the use of government purchase cards, Bloomberg Government reported Friday.
The pilot program comes as the General Services Administration works to implement its e-commerce program in accordance with the fiscal 2018 National Defense Authorization Act.
"The Air Force is striving to learn from several models of e-commerce in order to enhance the Air Force"™s mission in terms of pricing, user ability, or governance and feed those lessons learned into GSA"™s efforts," Capt. Hope Cronin, a spokesperson for the military branch, said in a statement to BGOV.
An Air Force official told BGOV the service has spent approximately $500K on small purchases through the Amazon Business e-commerce platform since the start of the collaboration this year.
The official noted that the pilot program works to offer users greater visibility into transactional data, which could provide more transparency on the service"™s spending.