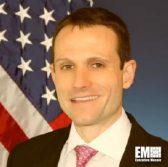 Will Roper, undersecretary of the U.S. Air Force for acquisition, technology and logistics, has said the service intends to award contracts to companies with emerging technology platforms within 24 hours through "startup days," Defense News reported Monday.
He told the publication in a Sept. 7 interview that prior to the actual startup days, the branch would ask firms through a "call out" to submit their concepts for analysis, look at their company profile and invite those that have met the requirements to pitch their concepts.
"But then, when they come in to pitch their idea, they have a reasonable expectation of leaving with funding. We"™re ready to go or not go on a single day," noted Roper, a 2018 Wash100 recipient.
"And the contract length? One page," he added.
Roper said he believes the Air Force could kick off the startup days as early as the end of 2018 or early 2019, according to the report.