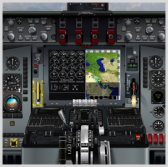 Rockwell Collins will develop and provide communications technologies that would complement the integration of a new situational awareness system into the U.S. Air Force's KC-135R aircraft.
The company said Monday it will perform the first ever permanent integration of Link 16 communications into a legacy tanker aircraft as part of the Real Time Information in the Cockpit system's implementation.
"Pilots and boom operators will now be able to view intelligence feeds on the new avionics displays we"™re providing as part of their Block 45 upgrade," said Dave Schreck, vice president and general manager of airborne solutions at Rockwell Collins.
The avionics upgrade builds on Block 40 and Block 45 architectures, as well as the previous RTIC program for the C-130 aircraft.