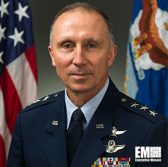 William Bender, senior vice president of strategic accounts and government relations at Leidos, said he has observed military services working to modernize information technology networks, MeriTalk reported Tuesday.
The retired U.S. Air Force general described the military network modernization project as "complex" and noted that USAF's projects include building software-based and virtual networks.
In regard to security, Bender said organizations should aim to protect information and have an "end-to-end" understanding of data assets before considering adoption of artificial intelligence technology.
He made the statements at an Air Force Association-hosted event held Thursday.