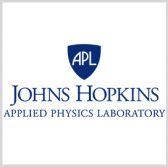 The U.S. Air Force has awarded Johns Hopkins University's Applied Physics Laboratory a five-year, $23.8M contract to provide life cycle support for the military branch's space assets
APL will support concept development, design, implementation, transition and management of tactical space and small satellite platforms under the indefinite-delivery/indefinite-quantity contract, the Defense Department said Thursday.
The Air Force will obligate $500K in fiscal 2018 research and development funds at the time of award.
Work will take place in Laurel, Md., and is scheduled to finish by Sept. 29, 2023.