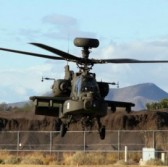 Brig. Gen. Thomas Todd, program executive officer for aviation, has said the U.S. Army started to accept deliveries of Boeing-built AH-64E Apache helicopters on Aug. 31 after the company kicked off an effort in June to address safety issues with the aircraft"™s strap pack nut, Defense News reported Tuesday.
The service temporarily stopped deliveries of Apaches due to durability concerns with the strap pack nut, a "critical safety" component that links the rotor blades to the aircraft.
Strap pack nut replacements will be carried out on the AH-64D variant and all other Apache helicopters, the report noted.
The Army News Service reported the military branch is approximately 19 percent complete with the retrofitting work.
Maj. Gen. Douglas Gabram, head of Army Aviation and Missile Command, said the service expects the strap pack nut replacement to conclude by the third quarter of 2019 and that installation of "fail-safe collars" is now under way on the remaining helicopters.