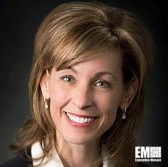 Leanne Caret, president and CEO of Boeing"™s defense, space and security business, told Fortune Magazine in an interview published Monday the Trump administration"™s move to communicate with industry represents a step toward collaborative public-private sector relations.
"The types of conversations this administration is having now, and the insight it"™s giving us, are unique," added Caret, who ranks 23rd on Fortune"™s 2018 Most Powerful Women list.
In regard to space, the three-decade Boeing veteran noted the use of satellites in many people's daily lives.
She added that the company has built a 55-foot unmanned submarine and that she predicts an autonomous air traffic system will become part of day-to-day transportation.
"There is absolutely no doubt in my mind that one of these days, we"™re all going to get into our little car pod, and we"™re just going to go traverse."