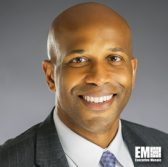 Tony Frazier, president of Radiant Solutions and a three-time Wash100 recipient, has said the company partnered with U.S. defense and intelligence companies in the past six months to share its geospatial analytics experience in support of their national security missions.
The Maxar Technologies subsidiary collaborated with the National Geospatial-Intelligence Agency over the Janus Geography program and launch of a new challenge with the Defense Innovation Unit that seeks to expedite the development of machine learning algorithms that work to glean insights from satellite images, Frazier wrote in a blog post published Wednesday.
Radiant Solutions has initiated steps to help customers leverage its analytic capabilities and the WorldView Legion satellite constellation by holding strategy sessions with DigitalGlobe's imagery clients.
Frazier mentioned the company's Red Tide service offering that aims to help government health agencies and commercial farm managers address issues with algal blooms.