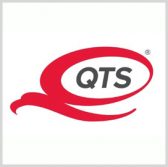 QTS Realty Trust has finished the first-phase construction of a new facility in Ashburn, Va., in 10 months to meet the increasing demand for hyperscale data center and hybrid colocation products and services.
The data center services provider stood up a three-story center that has 32 megawatts of critical power capacity that will be used to develop enterprise, hyperscale and build-to-suit offerings, QTS said Thursday.
The new property will also house QTS' hyperscale, federal and Northern Virginia-based personnel, as well as support the company as it aims to deliver data center capacity over 225 MW in the area.
Tag Greason, chief hyperscale officer for QTS, said the firm"™s development strategy includes delivering data center services to its customers to meet their needs for location, speed, scale and economics.
"Northern Virginia is the nexus for connectivity, and we look forward to providing critical capacity for large organizations with hyperscale consumption requirements and hybrid colocation needs," he added.