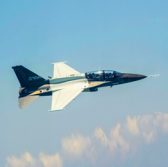 Lockheed Martin and Korea Aerospace Industries have submitted a final proposal for the U.S. Air Force's $16B T-X trainer aircraft contract, The Korea Times reported Thursday.
The Lockheed-KAI team intends to offer the T-50A jet trainer, which was unveiled in 2016, to succeed the service's T-38C plane.
The latest bid will possibly open more opportunities for the two companies to sell their offerings and secure foreign orders for the T-50A, according to the report.
The T-X program will also potentially boost KAI's global presence as it extends its operations in other countries, the report added.
The T-50A aircraft serves as the latest version of the T-50 supersonic jet, which KAI has deployed to several Asian nations such as the Philippines.
A Boeing–Saab team will also compete in the T-X program with the BTX-1 aircraft.