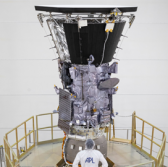 The Johns Hopkins University Applied Physics Laboratory has completed the final clean room procedures needed before the transfer of a NASA solar probe to the launchpad, from where it will embark on a voyage to the study the sun.
APL on July 11 mated the Parker Solar Probe to the Northrop Grumman-built Star 48BV rocket motor that would serve as a third-stage booster addition to the Delta IV Heavy rocket, the lab said Wednesday.
On July 16, the laboratory encased Parker within a 62.7-foot fairing ahead of the solar probe's trip to Cape Canaveral Air Force Station's Space Launch Complex 37.
The spacecraft will undergo rocket integration after arrival at the launch complex from the Astrotech Space Operations facility in Titusville, Fla.
The Parker Solar Probe is scheduled to launch on August 11 for a mission to study the sun's corona region.