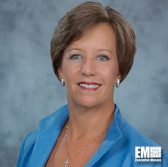 Rebecca Cowen-Hirsch, senior vice president of government strategy and policy for Inmarsat Government, has said the government and the commercial satellite industry should adopt an "enterprise approach to partnerships" to protect and defend space assets from potential adversaries.
Cowen-Hirsch wrote in a National Defense piece posted Friday that an example of that approach is the formation of the industry's presence in the Joint Space Operations Center.
That partnership has helped facilitate technology and data sharing efforts, expand space situational awareness and integration, and boost the joint force space component commander's command-and-control capability under Strategic Command, she noted.
She said participants of a panel discussion at the Space Symposium in April cited the need for the government to leverage commercial innovation.
Cowen-Hirsch noted that the commercial satellite sector plays a primary role in the national security strategy and continues to advance innovation across several capabilities such as space situational awareness and satellite communications for airborne, maritime and ground operations.
"And satellite companies pursue these accomplishments not as competitors to agencies, but as collaborators for assured, protected access to space assets," she added.
She also mentioned the importance of ensuring interoperability and security of the satcom architecture.