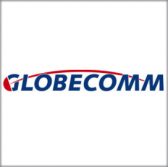 Globecomm has booked more than $215 million in orders during its 2018 fiscal year, which ended June 30, to provide multiple communications technology platforms to public and private sector customers.
The company said Tuesday it will supply fixed and transportable satellite communications  terminals as well as very-small-aperture terminal broadcast and wireless services to government customers.
Some of the orders were from defense, civilian and foreign affairs agencies.
Globecomm noted it has seen an increased demand for the firm's cellular backhaul services as industry anticipates a rollout of 5G mobile technology and sold 10,000 tracking systems across the energy sector.
The New York-based firm also offers an internet-of-things platform to support asset tracking activities in the maritime and oil and gas industries.