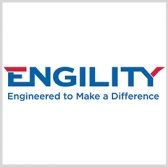 Engility has secured a potential five-year, $85 million contract from the U.S. Navy to develop, engineer, analyze and test naval aviation warfare systems for the Naval Air Warfare Center Aircraft Division.
The company said Thursday it will also help NAWCAD integrate the systems into aircraft and provide life cycle support services.
"We look forward to studying, analyzing and developing new methods, tools, training and environments for application across the entire life cycle of naval aviation," said Lynn Dugle, chairman, president and CEO of Engility and a two-time Wash100 awardee.
Engility plans to use its Maryland-based Model Based System Engineering Laboratory to evaluate technical baseline and assess program engineering activities under the contract, won through a recompete.
The company has provided systems engineering support to the Navy for two decades.