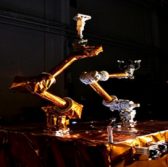 The Defense Advanced Research Projects Agency has concluded a preliminary design review of a satellite servicing system being developed in collaboration with Maxar Technologies' SSL subsidiary.
DARPA said Friday results of the assessment showed that the Robotic Servicing of Geosynchronous Satellites payload could operate for several years and repair at least 20 commercial and government spacecraft in orbit.
The U.S. Navy's Naval Research Laboratory, which constructed the RSGS system, provided interface control documents and validation plans for the design review process.
"NRL was able to demonstrate that its payload design meets DARPA's objectives and is compatible with the spacecraft bus being provided by SSL," said Joe Parrish, RSGS program manager in DARPA's Tactical Technology Office.
SSL is scheduled to review systems requirements for RSGS' spacecraft bus in October.
The company aims to operate the satellite servicing system for military and commercial customers after DARPA launches RSGS in orbit in 2021 as part of a partnership agreement.