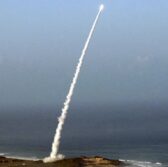 The U.S. Army has launched efforts to begin the acquisition process for an interim capability intended for cruise missile protection through a program led by new Futures Command's air-and-missile defense cross functional team, Defense News reported Wednesday.
Col. William Darne, chief of staff of AMD CFT, said the team decided to focus on and address the cruise missile defense capability requirement through the Indirect Fire Protection Capability Increment 2 program as per the request of Army undersecretary Ryan McCarthy.
"We are working with the program manager and it looks like the direction we are likely to head is we have to come up with an interim capability, something we can get very quickly out there to provide some capability, and then, meanwhile, also figuring out what we need to do with the program of record," Darne said Tuesday at the Space and Missile Defense Symposium.
He noted that the service considers the Iron Dome system from Raytheon and Israel-based Rafael as a potential platform for the interim capability.
Tim Cahill, vice president of integrated air and missile defense at Lockheed Martin's missiles and fire control business, said the company has offered the Army a few platforms to consider for the interim cruise missile capability requirement.