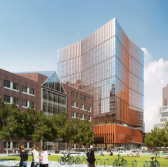 Boeing has announced plans to lease a 100,000-square-foot research space at the Massachusetts Institute of Technology's Kendall Square mixed-use district in Cambridge, Mass.
The new aerospace and autonomy center at Kendall Square's 17-story building is set to be operational in 2020 and will accommodate employees from Boeing's Aurora Flight Sciences subsidiary to perform research, design and development work on unmanned aircraft and other air mobility platforms, Boeing said Wednesday.
"By investing in this new research facility, we are creating a hub where our engineers can collaborate with other Boeing engineers and research partners around the world and leverage the Cambridge innovation ecosystem," said Greg Hyslop, chief technology officer at Boeing.
The proposed aerospace and autonomy facility will support the newly created Boeing NeXt organization through the development of new tech platforms.
Boeing NeXt aims to combine projects and researchers across the company to design and build an airspace management system to facilitate the operation of autonomous and manned aircraft.
MIT's Kendall Square Initiative seeks to construct six buildings for research and laboratory, housing, office and retail spaces.