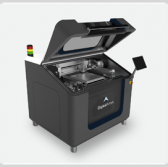 Boeing has invested in Burlington, Mass.-based additive manufacturing system developer Digital Alloys through its ventures arm to advance the development of 3D-printed aerospace components.
Digital Alloys has developed an additive manufacturing platform, Joule Printing, that works to combine high-temperature alloys, titanium and other metals to produce 3D-printed parts, Boeing said Tuesday.
Boeing HorizonX Ventures made the investment through a Series B funding round spearheaded by G20 Ventures and included Khosla Ventures and Lincoln Electric.
"Our investment in Digital Alloys will help Boeing produce metal structural aerospace parts faster and at higher volume than ever before," said Brian Schettler, managing director of Boeing HorizonX Ventures.
Boeing has integrated at least 60,000 3D-printed components into defense, space and commercial products.