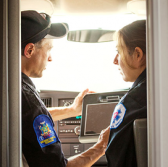 AT&T and RapidDeploy have partnered to offer a cloud-based technology platform for  public-safety answering points obtain information in real time in the event of a critical situation.
The partnership seeks to connect PSAPs to RapidDeploy's computer-aided dispatch platform through a virtual private network in an effort to help dispatchers receive data from multiple connected devices and closed-caption video streams, AT&T said Monday.
Alex Parker, senior vice president for state and local government and education at AT&T's public sector business, said adding CAD technology to the telecommunications firm's portfolio will help the company bridge the flow of data among the general public, first responders and emergency dispatchers.
RapidDeploy designed its platform with an open application programming interface architecture and to allow first responders access data while in the field via a company-built app or a browser.
The CAD technology will be on display at AT&T's FirstNet booth during the APCO 2018 Conference & Expo in Las Vegas.