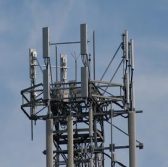 The team of AT&T and the First Responder Network Authority has partnered with Sonim to develop portable kits that first responders can use to establish connectivity to a national public safety communications network during emergencies in remote and rural areas.
An emergency drop kit for the FirstNet platform will feature four Sonim XP8 devices equipped with the Intrepid Response application for situational awareness and a Cradlepoint LTE router that comes with an integrated Wi-Fi and MC400 modem for data communications, AT&T said Monday.
The drop kits will work to help first responders coordinate responses and maintain communications through a 300-foot structure, dubbed "connected bubble."
Chris Sambar, senior vice president for FirstNet at AT&T, said the company has teamed up with industry and public safety professionals to develop the emergency drop kits.
"The kits will make it even easier for first responders to stay connected to the full capabilities of their network – no matter where their mission takes them," Sambar added.
The AT&T-FirstNet team also has created a new initiative – Response Operations Program – that supports the National Incident Management System and seeks to help public safety agencies further build up their network command-and-control capabilities.