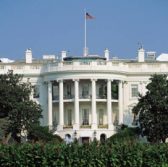 Several industry groups and individuals from the commercial sector and academia have asked the White House's Office of Science and Technology Policy to issue a request for information in order to seek comments on its plan to establish a policy on artificial intelligence.
The organizations wrote in a Wednesday letter to Michael Kratsios, deputy chief technology officer, that the White House did not open to the public its AI summit in May and the initial meeting of its new select committee on AI on June 27.
They said a White House report on the AI summit failed to cite certain words such as "ethics," "transparency," "accountability" and "fairness" and called on OSTP to consider several questions related to AI issues.
Those questions include potential risks associated with the use of AI; legal frameworks governing AI; transparency of agencies and companies in the use of AI; and technical measures that could help advance the benefits of AI and reduce technology-related risks.
The American Association for the Advancement of Science, Electronic Privacy Information Center and the Federation of American Scientists were among the organizations that signed the petition for an RFI.