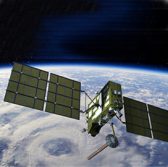 Maxar Technologies' SSL subsidiary and Thales Alenia Space have forged an alliance with the goal to build a fleet of low-Earth orbit satellites and an end-to-end system for Telesat.
The partnership"™s offering will include designing satellites, gateways, user terminals, operations centers and ground network, Maxar said Monday.
Telesat aims to build a satellite constellation to deliver communications services intended to support the adoption of 5G capabilities, deployment of fiber-like services into rural and remote communities and delivery of commercial and government broadband on land, at sea and in the air.
Both SSL and Thales Alenia Space have formed teams across work streams in France, the U.S. and Canada to carry out the industry team's tasks.
Telesat has also tapped the consortium to lead system design and risk management efforts for the LEO constellation.