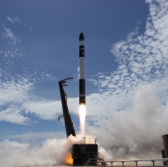 Rocket Lab has shortlisted Vandenberg Air Force Base, Pacific Spaceport Complex-Alaska, Wallops Flight Facility and Cape Canaveral for its second launch site.
The company said Tuesday it plans to select by August 2018 the location of the future Launch Complex 2, which will expand its Electron rocket production and customer access to orbit.
Peter Beck, founder and chief executive officer of Rocket Lab, said the U.S. launch site will provide federal and commercial clients an option to expedite the deployment of small satellites and other space assets.
Launch Complex 2 is meant to accommodate an orbital launch every month and will feature Rocket Lab's pad infrastructure, designed to support the Electron rocket.
The company picked spaceports at both East and West coasts to address current and future demand. The final site will be selected based on criteria that includes construction and operation costs, and schedule and regulatory lead times.
Construction will commence immediately after the site has been determined. Launch Complex 2's inaugural mission is set for the second quarter of 2019.
Rocket Lab presently operates the Launch Complex 1 which is located in New Zealand and licensed for 72-hour launch intervals.