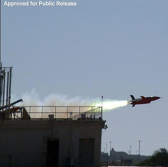 Kratos Defense and Security Solutions plans to exhibit on Wednesday its BQM-177A subsonic aerial target system, Defence Blog reported Friday.
The company received in June 2017 a $34.6 million Navy contract modification for the low-rate initial production of the target drone, meant to replace the branch's existing platform for the simulation of missile threats in training operations and weapon system evaluations.
The BQM-177A is designed after the BQM-74E Chukar and features a MicroTurbo TR-60-5+ jet engine, high-mounted wings and a new fuselage.