Raytheon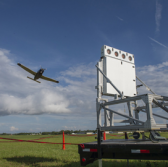 's intelligence, information and services unit showcased the features of its Low-Power Radar to U.S. Army, U.S. Navy and U.S. Air Force officials during a demonstration held in Brooksville, Fla. from June 26 to 28.
The LPR, scheduled for initial production in 2019, is a small multi-mission, x-band radar capable of approach landings, aviation surveillance, weather observations and small-drone location, Raytheon said Tuesday.
Originally a weather radar, LPR has no moving parts and is capable of advanced dual-polarization to distinguish among heavy rain, hail, snow and sleet in addition to detecting non-meteorological echoes such as ground clutter, birds, and tornado debris.
Its Active Electronically Scanned Array component allows it to transmit high-quality images and offer adaptive beam scanning which enables the radar to track more targets and interweave between different radar applications.
Matt Gilligan, vice president of Raytheon's navigation, weather and services mission area, said the radar is like a Swiss Army knife with an extended range that "expands options for managing multiple fast aircraft on approach".