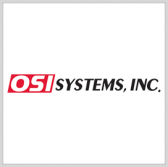 OSI Systems' security unit has received a multi-year, $63 million contract to provide cargo security services for an international client.
Services will encompass inspection systems, installation, operator training and maintenance for cargo vehicles that are needed to help protect national infrastructure, the company said Tuesday.
Deepak Chopra, chairman and chief executive officer at OSI Systems, said the company is pleased to provide technologies from the Rapiscan Systems and AS&E cargo product portfolio.
"We have a long history of successful cargo installations utilizing transmission and Z Backscatter x-ray detection technologies for inspecting dense cargo as well as passenger vehicles," he added.