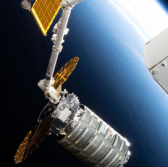 Northrop Grumman"™s Cygnus spacecraft re-entered the Earth's atmosphere on Monday after it brought approximately 7,400 pounds of cargo and supplies to the International Space Station and performed secondary space missions.
The re-entry of the space vehicle, dubbed S.S. J.R. Thompson, marked the conclusion of the company"™s ninth cargo delivery mission to the orbiting laboratory under the Commercial Resupply Services 1 contract with NASA, Northrop said Monday.
Cygnus, which took off in May aboard the Antares rocket, stayed at the ISS for 52 days and left the orbiting laboratory on July 15 with at least 6,600 pounds of disposable cargo.
The spacecraft also deployed six CubeSats into orbit following its departure from the space station.
"We now turn our attention toward final preparations for the next Cygnus cargo mission later this year with a continued focus on supporting the needs of the crew members aboard the International Space Station, as well as enabling crucial research programs in space," said Frank Culbertson, president of Northrop"™s space systems group.