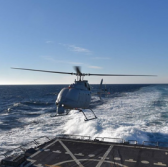 A U.S. Navy aviation unit has conducted an initial operational test and evaluation of an MQ-8C Fire Scout unmanned helicopter produced by Northrop Grumman.
Air Test and Evaluation Squadron 1 assessed Fire Scout's intelligence gathering, target identification and surface warfare functions through simulated engagements onboard USS Coronado, the U.S. Pacific Fleet said Friday.
The IOT&E activity took place June 28 off the coast of Southern California and involved mission scenarios with the Sikorsky-built MH-60S Seahawk helicopter.
The Navy will use data from the test in efforts to determine how they can integrate MQ-8C with platforms such as LCS.
Pier-side tests that focus on the maintenance and cyber systems of the unmanned helicopter will continue through mid-July.