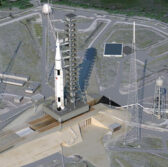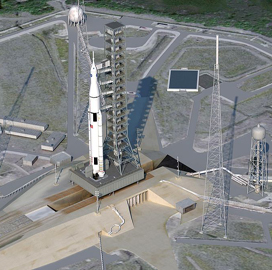 NASA has released a request for qualifications for a program to design and build the second mobile launcher platform for the Space Launch System.
A FedBizOpps notice posted June 29 says the proposed Mobile Launcher 2 is a mobile structure designed to support the launch of the SLS Block 1B rocket and future configurations of the space vehicle.
ML2 should integrate with mobile ground support equipment and other handling and processing systems as well as interface with the launch pad, vehicle assembly building and crawler transporter in support of the Exploration Ground Systems program at NASA"™s Kennedy Space Center in Florida.
The release of the RFQ is the first part of a two-phase acquisition process for the ML2 design-build contract.
NASA will hold an industry day on July 15 and accept proposals for the RFQ through July 30.
The agency will assess vendors"™ relevant experience and technical approach and then pick up to five companies that will advance to the second phase and submit detailed proposals through Nov. 13.
NASA intends to issue the final solicitation on Sept. 28 with plans to award in February 2019 a single cost-plus-award-fee contract with a performance period of up to 44 months.