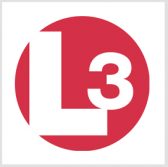 L3 Technologies has announced it will demonstrate a new weapon systems synchronization approach on Tuesday at the 2018 Farnborough International Airshow.
The company said Friday it will perform Manned-Unmanned Teaming, the integration of different combat systems in aims to reduce sensor-to-shooter time and boost situational awareness.
The approach works to facilitate the sharing of high-bandwidth situational awareness information between unmanned aerial systems and manned units consisting of ground forces and command and control centers.
L3 received a contract in August 2017 to develop the MUMT technology for the U.S. Army.