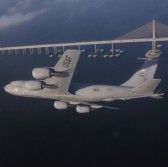 The power and data systems unit of AMETEK's aerospace and defense division will provide a data consolidation and processing technology to help L3 Technologies' business update a legacy platform.
L3 Aerospace Systems will use AMETEK PDS' Multi-Engine Data Concentrator for the RC-135 aircraft retrofit program, AMETEK said Saturday.
AMETEK MEDC is a commercial off-the-shelf avionics system that is currently certified and integrated with the KC-135 aircraft.
The technology is designed to operate as a single- or dual-channel unit for analog and digital applications.
The aircraft update program is intended to address obsolescence of legacy equipment and to facilitate the reduction of life-cycle costs.
AMETEK PDS designs and produces integrated and solid-state power generation and distribution systems, data concentration and cockpit instruments, linear and rotary actuators, direct current motors, blowers and starters for manned and unmanned aerial vehicles.