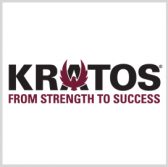 Kratos Defense and Security Solutions has announced that it expects to receive a Naval Air Systems Command contract to deliver 60 BQM-177A surface-launched, sub-sonic aerial targets.
The company said Tuesday its unmanned systems division will deliver the orders and associated data from the second quarter of fiscal year 2020 through the second quarter of fiscal year 2021.
Kratos is the developer and sole manufacturer of the BQM-177A aerial targets, which are designed to simulate anti-ship cruise missiles during exercises.
The model is built to enter speeds of over 0.95 Mach and altitudes as low as 10 feet from the sea surface.
"We expect the BQM-177A SSAT program and system to be multi-year, decade in length, as we strive to not only meet, but exceed all performance, relationship and affordability requirements and expectations of our Navy partner," said Eric DeMarco, president and CEO of Kratos.