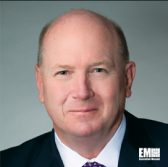 Ken Asbury, president and CEO of CACI International and a five-time Wash100 winner, has pointed to cultural fit and a go-to-market strategy that could involve technical skills or technology offerings as the company's key considerations for identifying potential acquisition targets.
"We look through a lens of all of our markets at all times and something has to fit into our company very well," Asbury said during an interview on the "Government Matters" show that aired Thursday.
He added in the interview that the Arlington, Va.-based contractor also partners with small businesses to deliver products and services to public sector customers.
When asked about his views of the marketplace, Asbury replied he thinks the current market environment looks better than it was five years ago when Congress enacted the Budget Control Act.
In regards to national security space, he said the government should implement initiatives to ensure that an individual who seeks access to critical information is vetted appropriately.