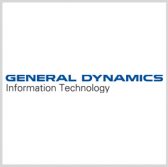 General Dynamics"™ information technology business has booked four one-year task orders worth a combined $23.4 million to support the Environmental Protection Agency's IT infrastructure, systems and applications.
Each order contains two one-year options and supports EPA's ENERGY STAR program, which GDIT has supported over the past 17 years, the company said Tuesday.
The agency launched the program in 1992 as part of efforts to help U.S. businesses and households reduce electricity consumption.
EPA issued the orders to SRA International, which merged with the former Computer Sciences Corp.'s public sector business to form CSRA in late 2015.
General Dynamics acquired CSRA three months ago.