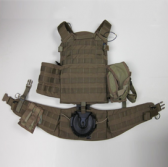 The Air Force Research Laboratory has granted Newcomer Arms the rights to manufacture and commercialize two technologies designed to support operational mobility, under separate licensing agreements.
The Ruck Dock system functions to help users evenly distribute load weight from the upper body to the lower body, Wright-Patterson Air Force Base said Thursday.
Darryl Nowak, chairman of Newcomer Arms, said that the technology works with the Modular Lightweight Load-Carrying Equipment tactical vest. "This product can be adapted to accommodate mapping, communication, and music devices, as well as a rail system for attaching a flashlight and other tools," he added.
In addition to warfighter applications, the Ruck Dock is also built for use in firefighting, ranger activities and hiking.
The second product, the Mobile Device Mount, is designed to allow users to access communication devices and other tools, without the need for physical handling. The technology is mountable on the wrists and arms of a user, and uses components designed to accommodate the muscle structures of forearms and legs.