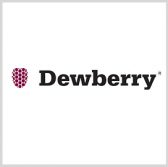 Dewberry has secured a position on a potential five-year, $45 million contract to provide architectural and engineering services to the U.S. Army's Engineering and Support Center in Huntsville, Ala.
Fairfax, Va.-based Dewberry said Friday it is one of three contractors who will vie for work to engineer  building automation, electrical, plumbing and mechanical systems for the  Defense Department and federal civilian agencies under the indefinite-delivery/indefinite-quantity contract.
Services will support Army Metering, Utility Monitoring and Control Systems, Electronic Security Systems  programs.
Carl Lundstrom, associate vice president at Dewberry, said the contract will extend the company's relationship with the Army Corps of Engineers and that the firm is looking forward to moving toward the next phase of support services for USACE.