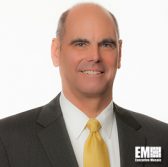 Cubic's global defense business will bring its combat training systems to the 2018 Farnborough International Airshow, held in the U.K. from July 16 to 22.
The company announced Thursday it will present its P5 Tactical Combat Training System, Cubic Miniature Encryptor for Air Combat Maneuvering Instrumentation, and a live, virtual and constructive simulation security product.
Dave Buss, president of Cubic Global Defense, and a 2017 Wash100 winner, said the company equips encrypted P5 internal subsystems for the F-35 to facilitate fourth and fifth-generation interoperation.
Cubic will continuously update its products to address training systems demand from F-35 and P5 operators, added Mike Knowles, vice president and general manager of Cubic Global Defense's air ranges unit.
The P5CTS allows aircraft to aircraft transmission of time, space and position information, and post-mission analysis through real-time monitoring and recording of surface-to-air and air to air and ground training data.
CME provides systems security for legacy P5 pods and ground stations at training facilities.
The U.S. Air Force Research Laboratory previously tapped Cubic for development and assessment support for a multi-level secure system and a secure waveform. The company served as the systems integrator for the advanced technology demonstration of the Secure LVC Advanced Training Environment initiative.
Cubic's airshow exhibition will also include displays of its Windows-based Individual Combat Aircrew Display System, aggressor aircraft Bandit Board for live P5CTS and range display, and Synthetic Wrap live and simulated training platform.