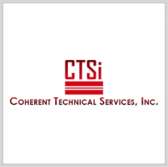 Coherent Technical Services Inc. has collaborated with L3 Technologies to demonstrate an integrated communication and navigation technology designed to work in a GPS-denied or contested environment.
CTSi said Tuesday it developed and flight-tested the Enhanced Link Navigation System prototype under an $8.7 million Small Business Innovative Research phase 3 contract from the U.S. Navy.
Pilots at aviation company Airtec provided turn-key support during the flight test that occurred at St. Mary"™s County Regional Airport in Maryland.
"Our team put ELNS in the air in less than 18 months," said CTSi Chief Technology Officer Ian Gallimore, adding the system offered area navigation to replace GPS at a range of more than 50 nautical miles all the way through landing.
Martin King, a Navy project manager, said the system is built to operate with multiple unmanned aircraft platforms.
ELNS uses L3's waveform technology designed to counter adversarial systems meant to detect and disrupt signals.