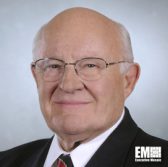 CACI International has established a facility named after Jack London, executive chairman and chairman of the board at the information technology services contractor.
The Dr. J.P. London Shared Services Center is located in Oklahoma City, Okla., and built to accelerate the delivery of support services across the company, CACI said Tuesday.
Tom Nesteruk, a CACI executive vice president, manages the center.
The company noted it currently supports U.S. Army, U.S. Air Force and Federal Aviation Administration projects within the state.
CACI looks to use savings generated from center operations to fund employee growth, research and development efforts.