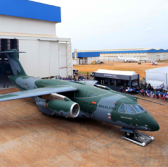 Boeing and Embraer have agreed to form a strategic partnership to establish a joint venture that will promote and build new applications and markets for KC-390 military multi-mission aircraft and other defense platforms and services.
Nelson Salgado, executive vice president for Embraer's financial and investor relations, said in a statement published Thursday that joint investments in global marketing efforts for KC-390 and agreements in supply chain, engineering, and research and development areas seek to build up the competitiveness of both companies.
Both aerospace companies also signed a nonbinding agreement to create a new commercial aviation-focused JV in which Boeing will own 80 percent of the business and Embraer the remaining 20 percent stake.
The strategic partnership is part of efforts to advance the companies' growth strategies in global aerospace markets and the transaction is expected to conclude by the end of 2019, subject to regulatory and shareholder approvals and other customary closing conditions.
The Boeing-Embraer partnership came months after the companies first announced in December 2017 that they were in talks over a "possible combination."