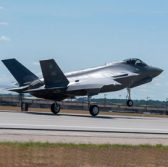 BAE Systems and Wesco Aircraft Holdings have renewed a multiyear agreement that allows the latter to continue providing supply chain management services for certain F-35 components.
Wesco said Monday it will help manage hardware and chemicals used to produce the fighter aircraft's tails and aft fuselage under the terms of the contract.
The Valencia, Calif.-based company also provides hardware and custom parts delivery, chemical management and kitting services to production and in-service programs for the Eurofighter Typhoon and Hawk platforms at various international sites through partnership agreements with BAE.
Wesco CEO Todd Renehan said both companies have worked for two decades.