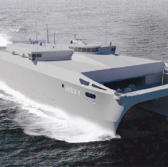 Austal USA has finished builder's trials of a 10th Spearhead-class expeditionary fast transport vessel the company has constructed for the U.S. Navy.
The week-long test occurred at a shipyard in Mobile, Ala., and demonstrated the future USNS Burlington's (EPF 10) fire protection equipment, communication and navigational systems, ship propulsion, ride control, anchor handling and steerable water jets, the Navy said Friday.
The service branch's Board of Inspection and Survey is scheduled to assess the readiness of the ship during acceptance trials later this month.
Burlington is designed to interface with roll-on/roll-off discharge facilities, as well as onload or offload vehicles such as the Abrams main battle tank.
The vessel also features a flight deck built to help sailors launch and recover aircraft.